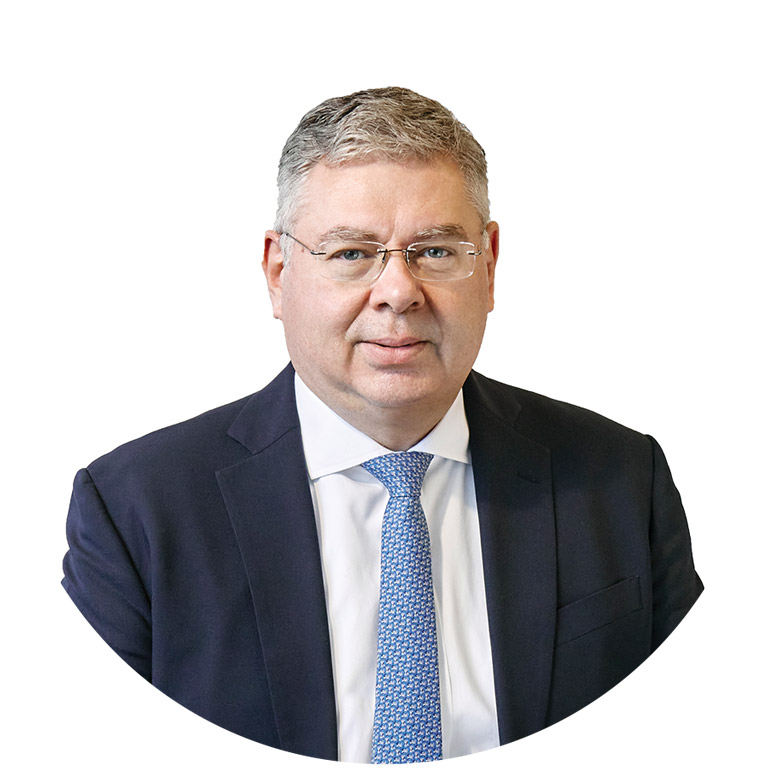 Message to our Stakeholders
2021 was undoubtedly a pivotal year for the HELLENIC PETROLEUM Group. Despite the numerous challenges brought about by the Covid-19 pandemic, we accelerated the implementation of the Group's energy transition strategy with dedication, flexibility and determination. True to our "Vision 2025", we are rapidly moving towards our goal of creating a diversified portfolio among our core businesses and growth in "New Energy", and we are transforming ourselves, driven by sustainable growth.
Commitment to Vision 2025
The Group's holistic transformation is reflected in "Vision 2025", an ambitious plan that is fully aligned with the targets set by the European Union to phase out conventional fuels, develop new, cleaner forms of energy and reduce greenhouse gas emissions. It is the vehicle for upgrading our operations and taking full advantage of the opportunities arising from energy transition.
Taking into account ESG (Environmental, Social, Governance) criteria and modern energy challenges, we have prioritized 5 key pillars: setting clear environmental targets with the ultimate goal of climate neutrality for the Group in 2050, redefining the business strategy and capital allocation based on specific energy and environmental targets, establishing the optimal corporate structure in terms of efficiency, upgrading corporate governance and, finally, adopting a new corporate identity, which will reflect the new face of a modern, innovative, resilient and extroverted Group.
The transformation seeks to strategically reposition HELLENIC PETROLEUM Group, one of the largest energy groups in South Eastern Europe, and to create added value for its stakeholders. It is one of the most ambitious, targeted private investment programs for the country and creates unique growth opportunities for the Group, its employees and the Greek economy as a whole.
Our vision is to be a resilient, extroverted and innovative Energy Group that will lead the country's energy transition and new industrial model, continuing our strong legacy with a clear vision for the future.
Towards a positive environmental footprint
The Group has placed green energy at the heart of its activities and is taking initiatives to address the climate crisis, demonstrating in a practical way that Sustainable Development is an integral part of its strategy.
We aim to reduce our direct and indirect greenhouse gas emissions by 50% by 2030 and achieve net zero emissions by 2050. In this context, we are implementing energy efficiency improvement projects in our industrial facilities and continue to increase investments in renewable energy sources to avoid greenhouse gas emissions. In 2021, we invested more than €260 million in projects to reduce our environmental footprint, with already visible results.
At the same time, it was a milestone year for our Renewable Energy Investment Program, as through strategic initiatives, we managed to bring the installed capacity from RES to 285 MW today.
In particular, the photovoltaic park in Kozani, which represents an investment of €135 million, is the largest photovoltaic park in Greece and the wider region of South-Eastern Europe. It is a flagship project, with a capacity of 204 MW, which clearly reflects the Group's commitment to continue to lead the energy sector in an era of challenges. It is worth noting that the project has the potential to meet the needs of 75,000 households and created over 300 jobs during the construction phase.
In addition, the Group's portfolio was also strengthened in the wind energy sector through the acquisition of two wind farms in South Evia, which are already in operation. This investment resulted in an increase in total installed capacity by 38 MW.
Continuing this successful business model, we have upgraded our target of 1 GW by the end of 2026 and the development of a diversified, robust portfolio of renewable energy projects, over 2 GW, in operation by 2030. In addition, we plan to implement energy storage and hydrogen projects, strengthen our core businesses and further develop New Energy activities in the medium term.
We are steadily implementing our strategic commitments to substantially improve our environmental footprint in order to help address the causes and impact of climate change, while increasing value for all our stakeholders.

Modern Corporate Governance and Emphasis on Digital Transformation
The Group already has a structured and appropriate corporate governance system in place, adopting best practices, in addition to those required by current legislation. Its objective is, among other things, to ensure the proper functioning of the Board of Directors and effective communication with shareholders and stakeholders.
In particular, 2021 was a year of momentous importance for the corporate governance pillar as it was significantly upgraded, with the majority of Board members elected by the General Assembly, with an increase in the number of independent directors, and the introduction of a suitability and gender quota policy.
Digital transformation is a strategic priority for the Group, as technology and its potential are necessary tools for every area of its business activity. The use and integration of digital practices are structurally changing the way in which the Group operates and generates value, improving its efficiency. The €42 million digital transformation project is estimated to generate annual benefits of €50 million.
In addition to being a modern necessity, digital transformation is an integral part of the Group's strategy.
Health and Safety a Constant Priority
For the Group, the proper management of Health and Safety issues is a non-negotiable commitment. Continuous improvement and the achievement of excellent performance in this area are the cornerstone of our daily operations. We constantly invest in prevention, improving infrastructure, upgrading processes following international best practices and incorporating the most modern and rigorous standards, while fostering a corporate culture that promotes safety, both for our employees and our partners. In 2021, approximately €13 million was invested in safety improvements across the Group's facilities in Greece and abroad and nearly 52,000 man-hours of Health and Safety training were conducted, representing more than 50% of total man- hours of training.
In order to ensure the uninterrupted operation of our facilities and to respond immediately and successfully to any emergency incidents, we conducted 70 preparedness drills at all our facilities jointly with the Fire Academy and the Armed Forces, so that cooperation and efficiency are driven to even higher levels.
In addition, amid the ongoing Covid-19 pandemic, we continued in 2021 our coordinated action to manage the health crisis, making it an absolute priority to safeguard the health of our people in Greece and abroad. To protect them, we carried out more than 197,000 COVID-19 detection tests and provided more than 8 million items of Personal Protective Equipment, as well as re certified all Group facilities under the Private Certification Scheme "COVID-Shield", at the highest level "Excellent".
It is worth noting that for yet another year we achieved the target of "zero" Large Industrial Accidents, which confirms our commitment to achieving excellence in this key sector.
Readiness for uninterrupted operations and commitment to Health and Safety are inextricably linked to the Group's sustainability.
Value Creation for the Society
Over time, HELLENIC PETROLEUM Group creates value for both the economy and society in all the countries where it operates. Through a continuous open dialogue with its social partners, it listens to their needs and responds to their expectations, demonstrating a high sense of responsibility.
As one of the leading Groups in the energy sector, it has a strong financial footprint in Greece. According to a recent study by IOBE for the year 2021, its contribution amounts to €1.69 billion, which corresponds to 0.93% of the national GDP, while its contribution to the state's tax revenues reaches 4.5%.
The contribution to employment is also noteworthy, as for every job created, 10 additional jobs are supported in the Greek economy. In particular, through its multilevel operation, it directly and indirectly supports more than 30,000 jobs, corresponding to 0.65% of total employment in the country, and indirectly boosts the income of 76,000 citizens.
Moreover, it confirms its responsible attitude and its long-standing contribution to society by following an integrated corporate responsibility strategy that unfolds over time. With programs totalling €5.85 million, the Group designed and implemented for yet another year interventions with a high impact at both national and local level. One of the most significant initiatives undertaken was the implementation of the erosion control projects in the fire-affected areas of Varybobi, Attica and Schino, Corinth, successfully completing in a short time the much-needed restoration of the natural environment.
The Group is committed to operating transparently and disclosing its performance on ESG indicators, following internationally recognised sustainability standards. We were among the first companies worldwide to voluntarily adopt the new GRI Standards 2021 and the corresponding sectoral indicators, as well as the new non-financial information disclosure guide of the Athens Stock Exchange. Furthermore, as an active member of the United Nations Global Compact (UNGC), we publish the upgraded CoP Progress Report as "Early Adopters", while through our operations and programs, we promote the 17 UN Sustainable Development Goals (SDGs). This effort is recognized by international rating agencies, such as CDP, according to which the Group succeeded in improving its rating from B- to B for how it manages climate change issues.
The HELLENIC PETROLEUM Group is changing. It is transforming with rapid and steady steps towards a greener and more sustainable future. Driven by its people and a strong transformation plan, it has laid solid foundations for the successful fulfilment of its vision. It is committed to being present where there is a real need, providing tangible support to society and the economy.
With our stakeholders as our allies, we see it as our duty to chart a sustainable course, creating a better tomorrow for the planet and a strong legacy for the next generation.
Andreas Shiamishis
Chief Executive Officer